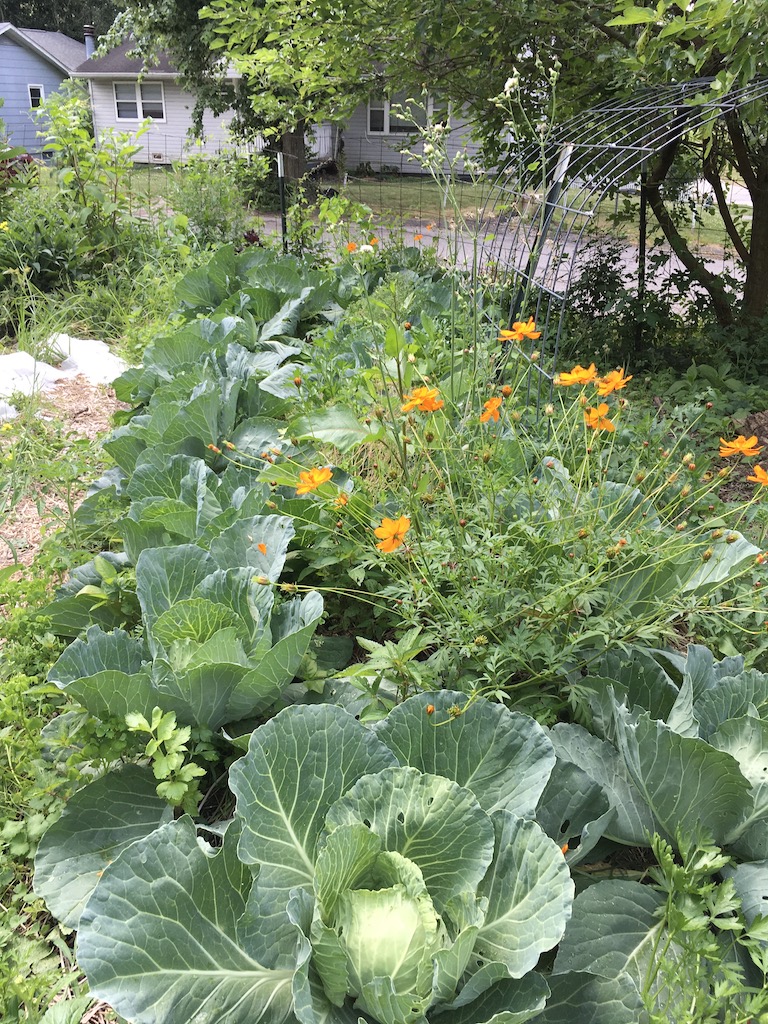 The above photo of the cabbage patch lining one of our hugelkulture beds was taken about two weeks ago.
Today, Daniel harvested the first one, and its a doozer!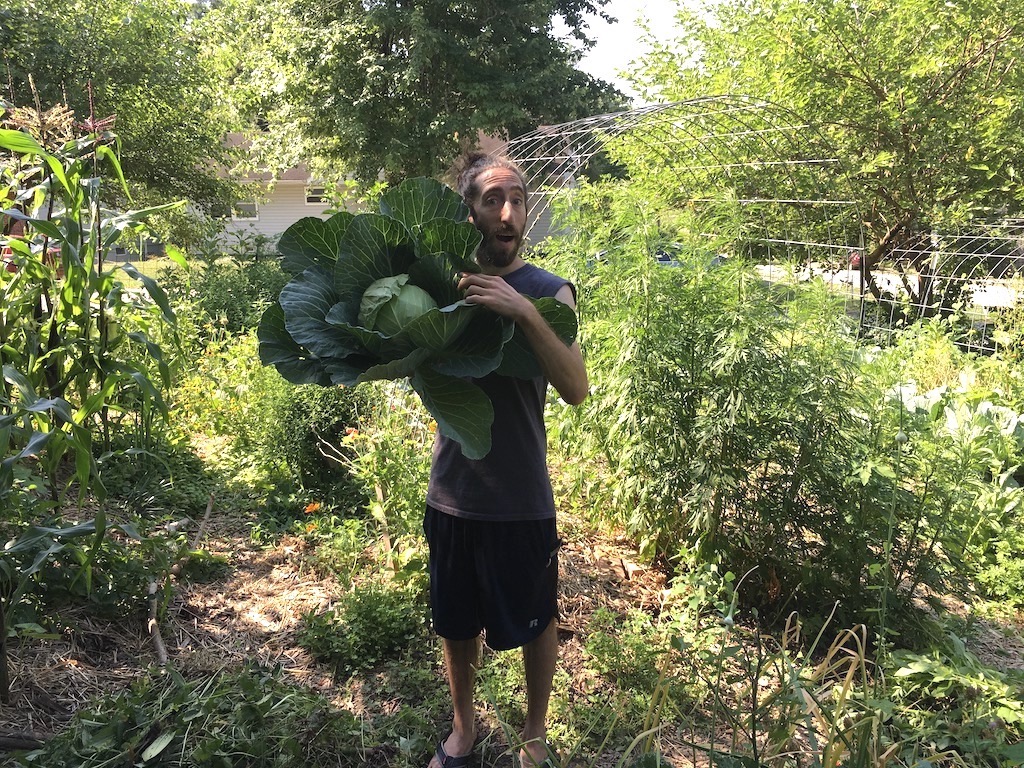 I asked him how he worked with the issues we had with these cabbages. For the slugs, he said, he used diatomaceous earth. And for the cabbage caterpillars and moths, he used Bt. "What's Bt"? I asked, and was alarmed when said it is an ingredient in Round-Up . . . but, that it's okay. I looked it up. He's right.

"Bio-pesticide." Good to know the word. And it sure worked. Notice the holes in the outer leaves? That was before Bt. Those little white winged creatures are flying about now, but all of our brassicas are in much better shape this year, thanks to the Bt.
And with so many big beautiful cabbages, we're already planning to make something cabbagey for Thursday's weekly Community Dinner. By the way, Indiana has now decided to allow people to work out of their own kitchens without inspection, if they're producing (unrefrigerated) baked goods and/or ferments for sale. YES! Fermented cabbage, here we come. But we'll have to get a tutorial from the other Daniel, the one who lived here for five years. He's a total expert on the process.
So that's the big reveal during this morning's two-hour work party, on another extremely hot, humid day. Here are Joseph, watering, and Marita, weeding.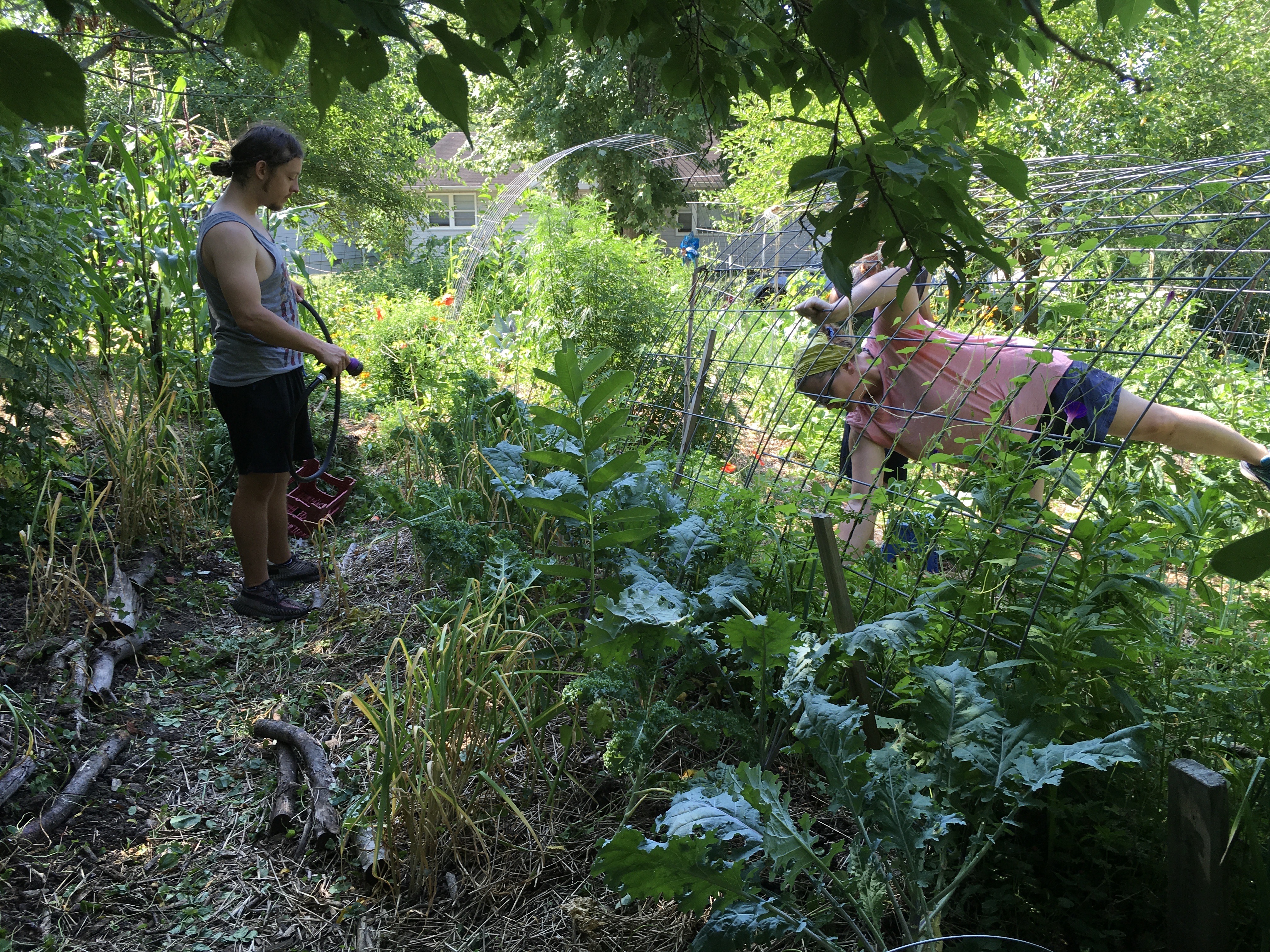 There are lots more photos of lots of happenings around here — including private Summer Solstice and New Moon events, more on the Gift Exchange table out front, the work party that got all the old wood off in neighbor Dave's truck to the dump, plus Community Dinner photos — but I want to learn how to put them into collages, rather than one by one — and don't have time right now. Grrrr . . .