Once again, Tuesday morning work party . . .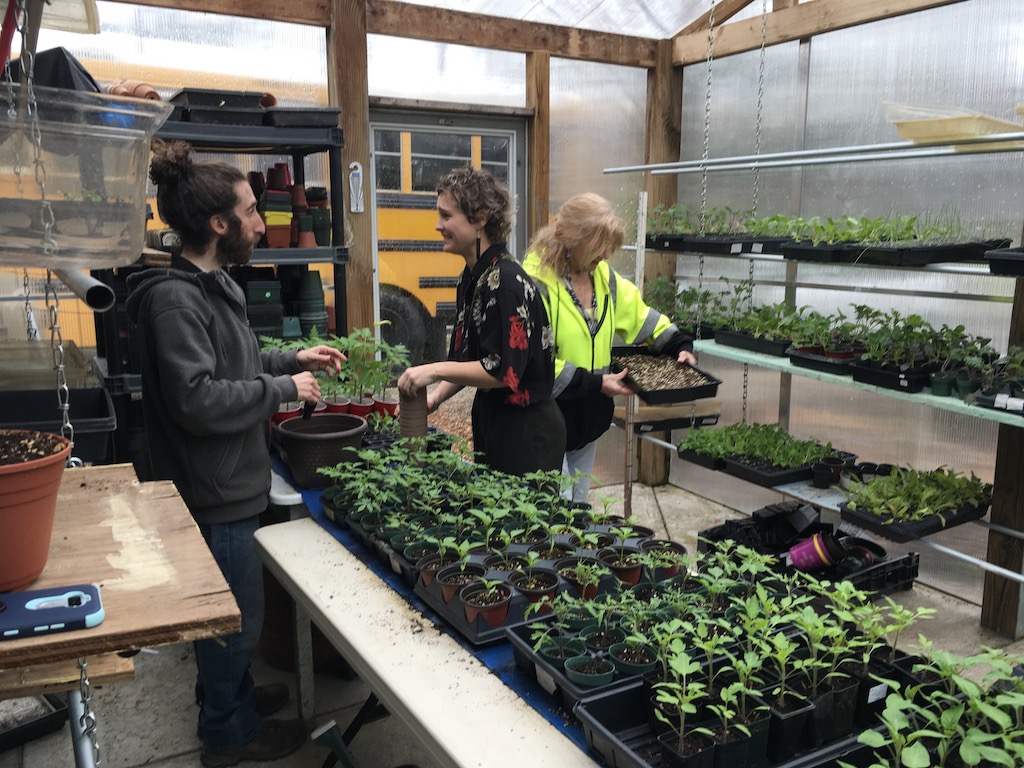 But the big news this past week is that on Thursday we restarted our weekly Community Dinners, after a four-month sabbatical. Yet even on that occasion when I impulsively invited folks out to the greenhouse to check on the condition of the plants, everyone eagerly agreed, leaving ale, wine and appetizers behind. That was exciting!
Then the fifteen of us present "circled up," as usual, holding hands in a circle; and since everyone else seemed too shy to volunteer, I said the blessing, mentioning a recent occasion outside of Aldi's on a rainy day when a tiny old woman approached me with an umbrella, saying she keeps extras in her truck. "Do you want one?" Since I had a raincoat on, I declined, but thanks so much for the offer! She grinned. I grinned. And our day was made.
Just about ten minutes into the meal I remembered to take pics. Just a few, quick, on the fly.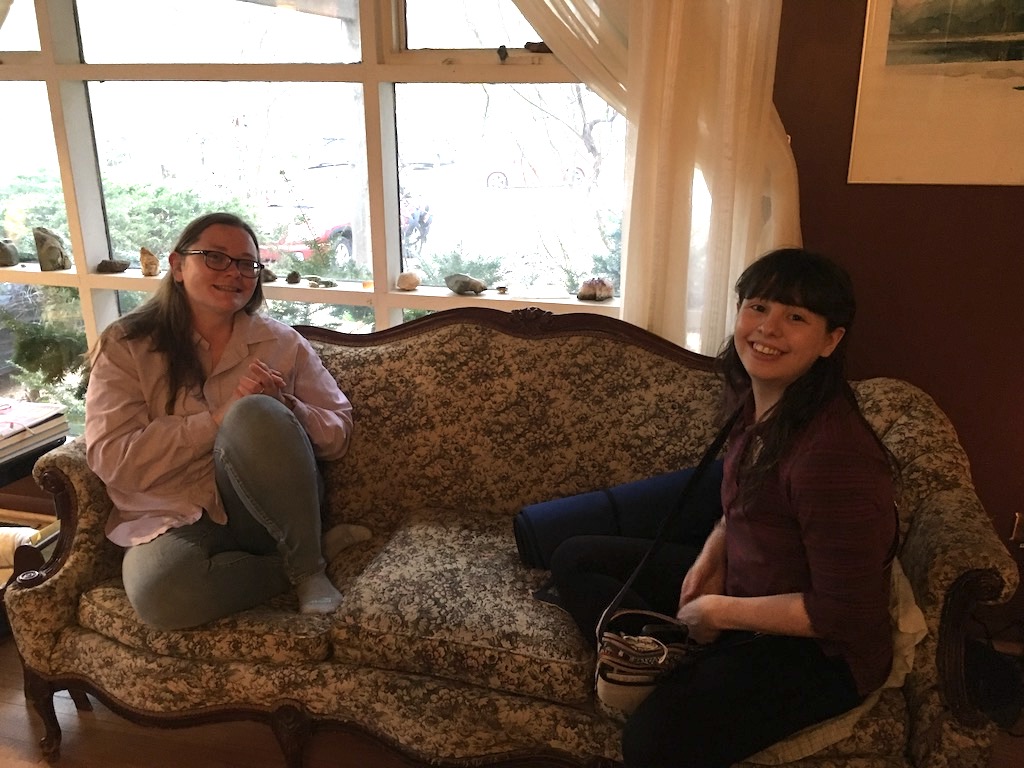 By the way, Sierra, on the right above, told me that we might not see her again, since she's about to take off for India for the summer, and will move to either Ann Arbor or San Diego for a doctoral program in the Fall. Living in an academic town (Indiana University, Bloomington), such comings and goings are, unfortunately, for us who remain, typical!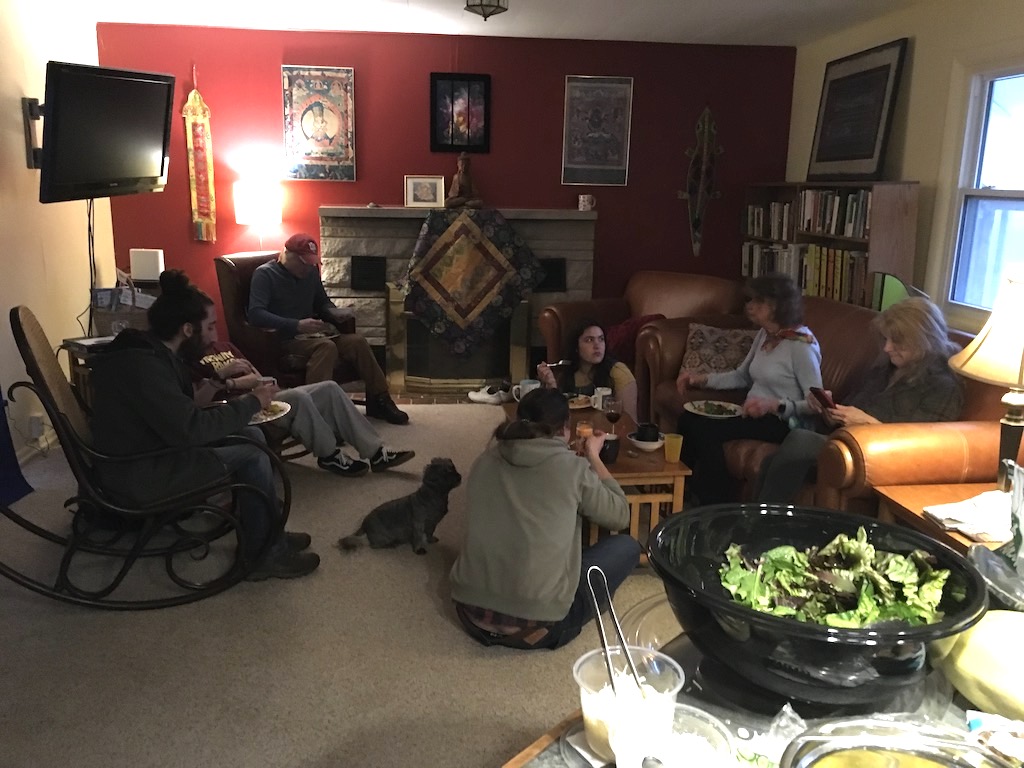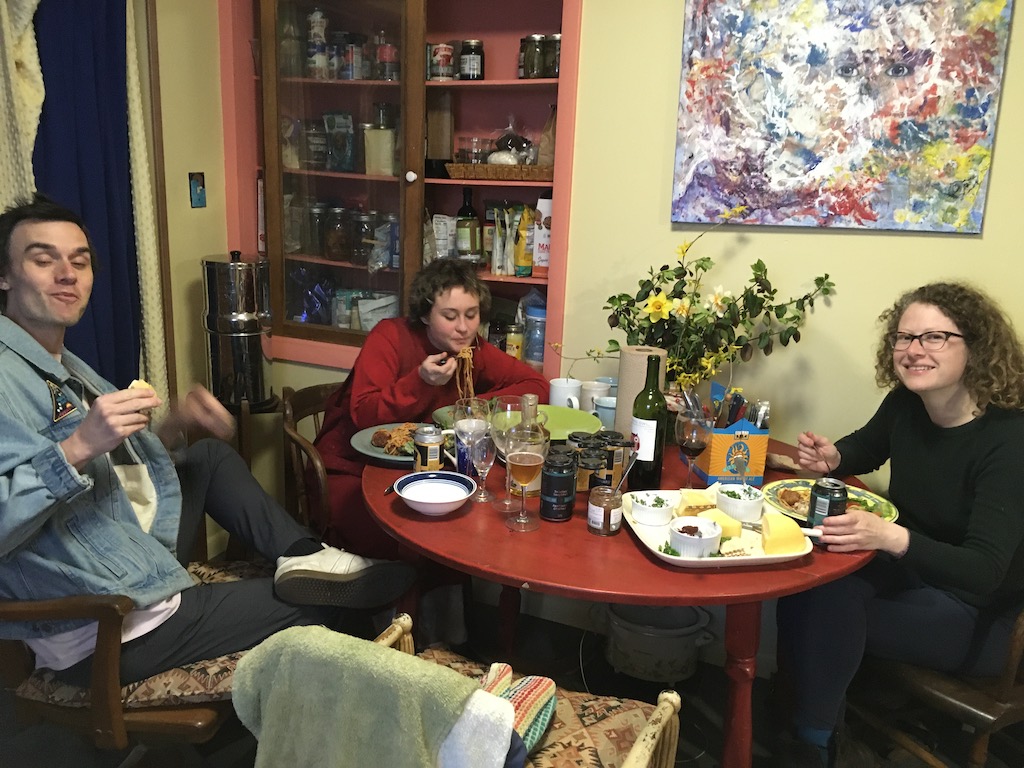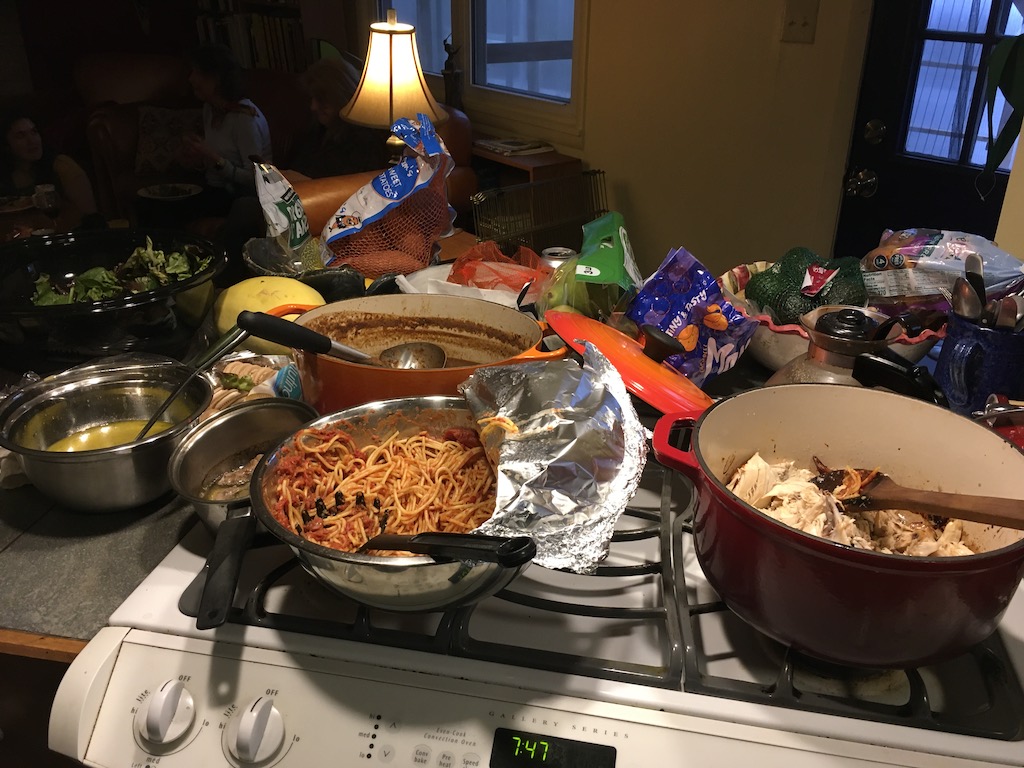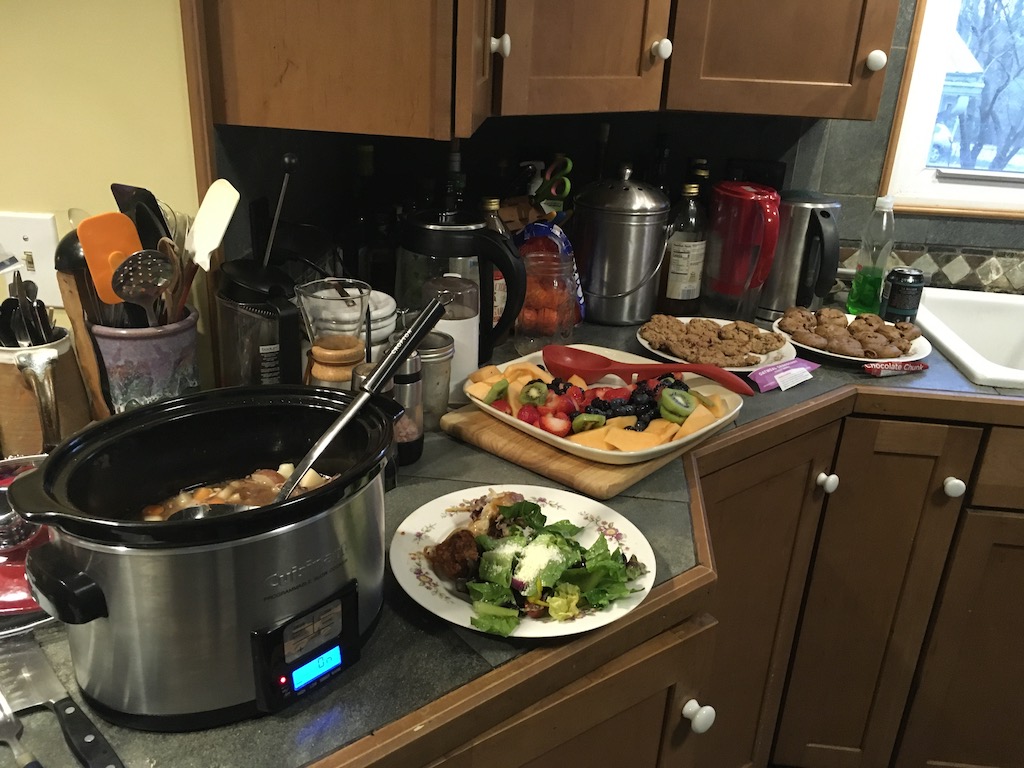 Friday morning found Marita in the greenhouse, off to the side, transplanting.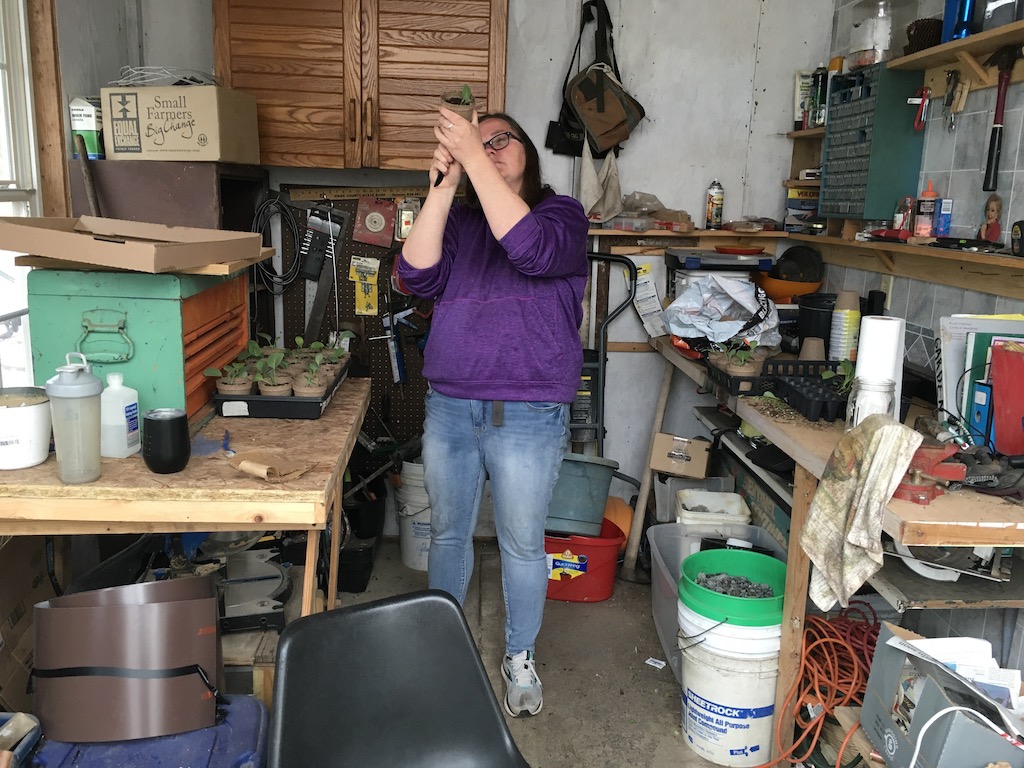 And of course, Daniel, who tells me, with a giant smile, that he checks on the plants three times a day, he loves them so much. And yes, you can tell they are loved!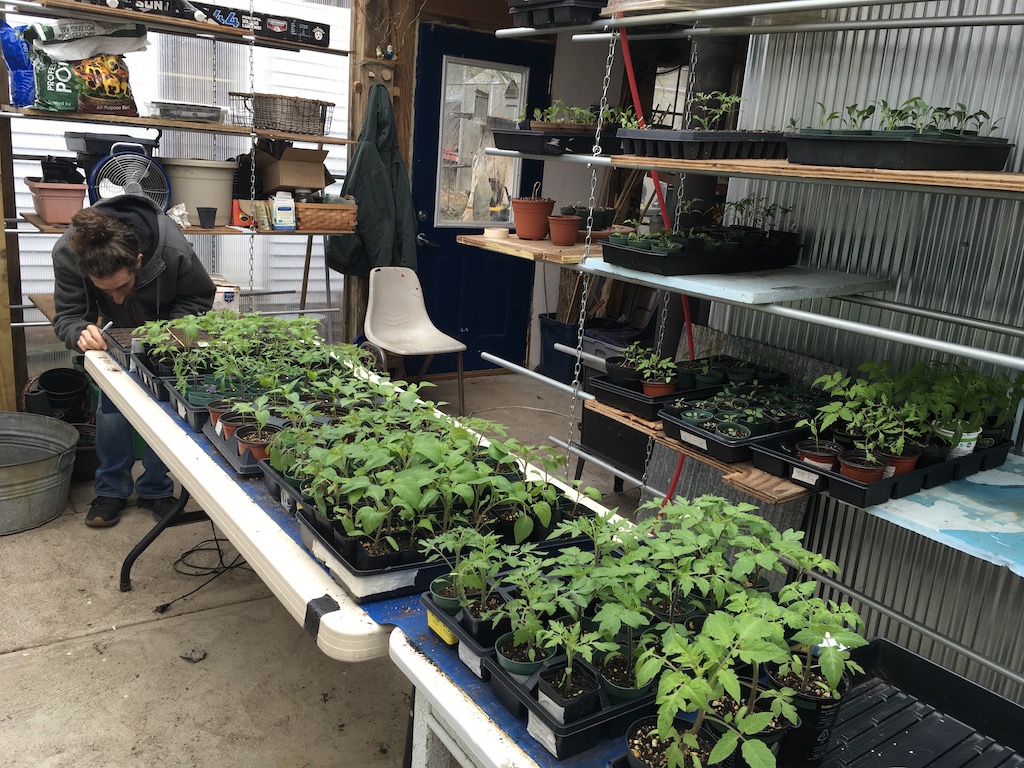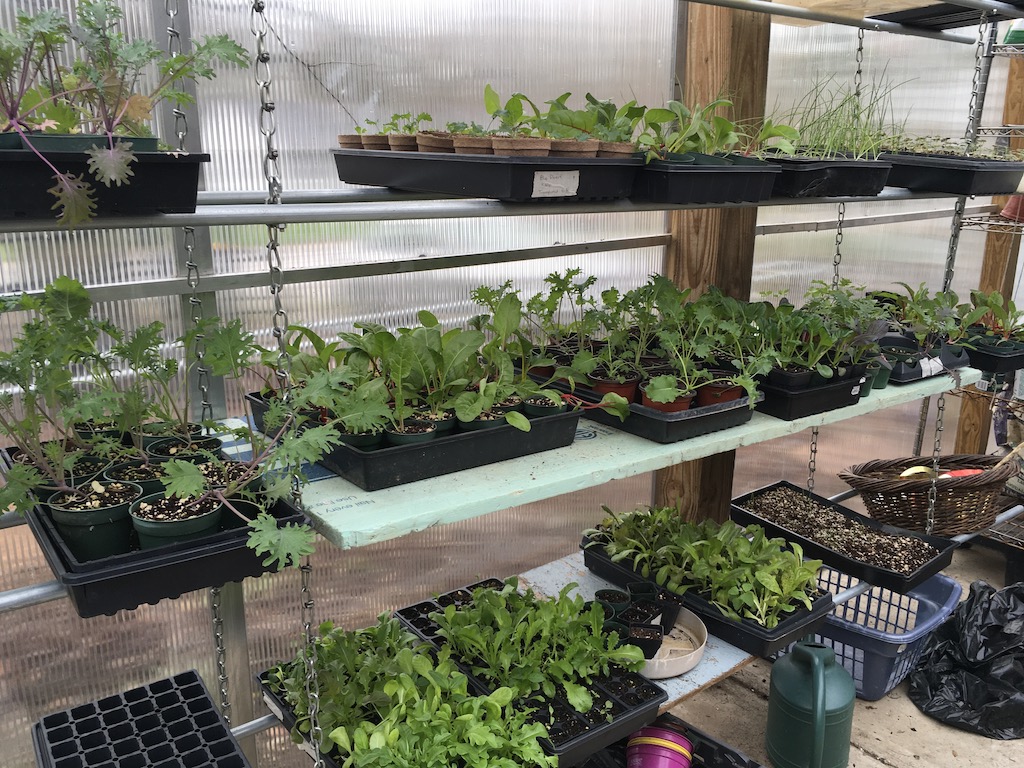 But then, oops! Today at 11:00 AM I went out there to take pics for this post and found both doors still closed, heat mat still on, fan off, covers on the tomatoes, and lettuces, and the temperature in there was 100°! Yeeks! I opened both doors, pulled the plug on the heat mat, uncovered the plants, and turned on the fan. Then came back inside and texted everyone about this, saying once again, that without a list in there of who is to water on which days, I didn't even know who to remind!
Instantly, Daniel texted me back. It was him. I presume my text reminder will prompt him to actually print out the list? (Or I will, hell! Just email it to me!)
Then, when I looked at the photos I took out there I saw that I had not removed one of the covers! So I went out and did that, noticing that the temperature, after that short amount of time (ten minutes?) had already dropped to 90°.
Here's the photo that showed me where I screwed up!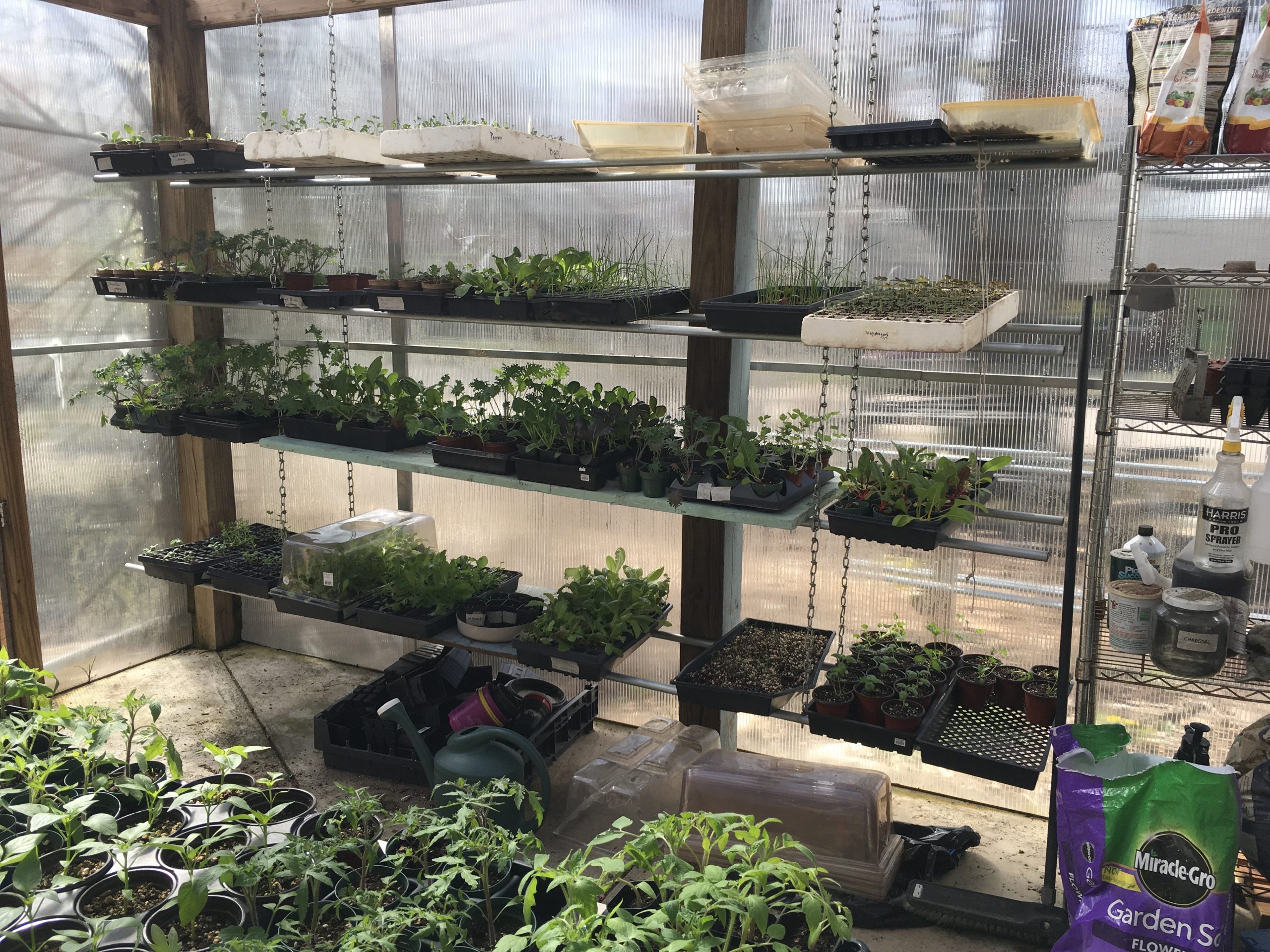 So while it may look like all is running smoothly out there in the greenhouse, know that we are all fallible, and that plenty of zagged human dramas accompany the steadily growing plants — which don't seem to even notice our strange ways. Or maybe they just forgive us? Could be. If so, thank you, thank you from the bottom of my wild heart, dear plants, and dear natural world, and dear universal light/love that powers the entire panoply of Life here on our beloved Mother Earth.