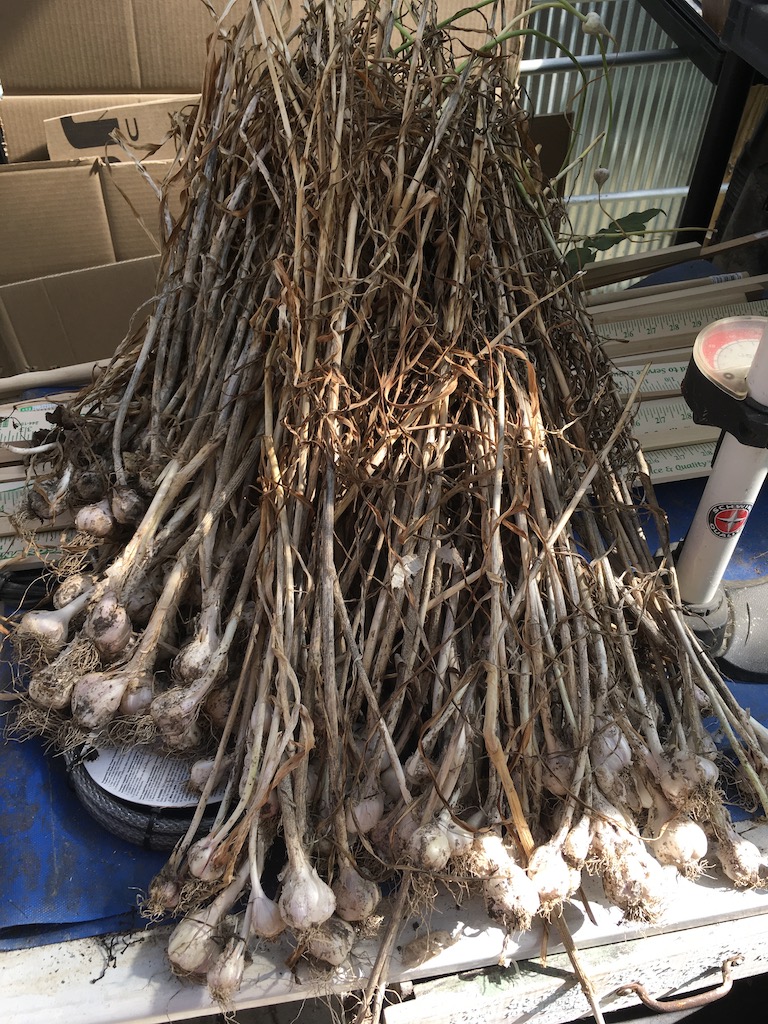 Life in our tiny urban paradise mid-summer revolves around the gardens, with not just kale and chard, two kinds of basil, mustard greens, beans, cabbage, summer squash, corn, and tomatoes and more — all ripe or ripening for harvest. And of course, onions and garlic! The arugula and lettuces are done, supplying salads for weeks. We're trying to grow beets and carrots now. Plus winter squash. And we're finally getting serious about saving seeds, setting up a table, little envelopes, and a filing system.
I've been making pesto with the burgeoning basil for several weeks, adding turmeric root.
A few days ago, I decided to freeze more kale, and picked three different varieties. Left to right: curly kale, siberian kale, and lacinato. Siberian kale is hardy enough to last through the winter. Much of what we're harvesting this year is from last year's crop.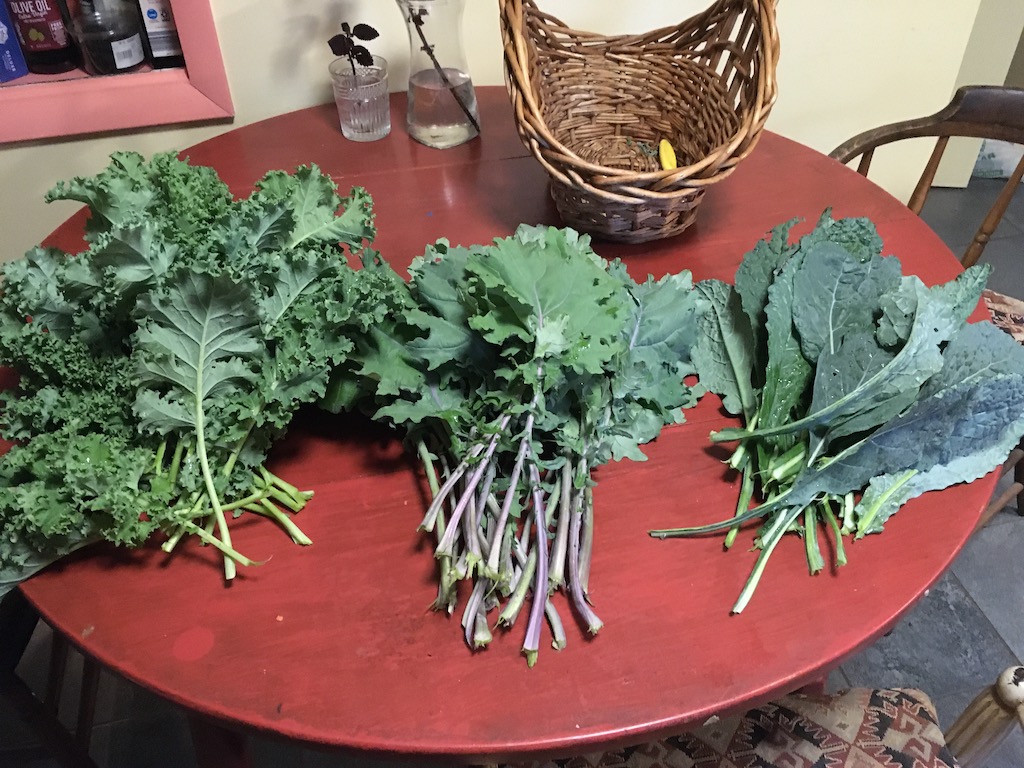 Dan (The Dan who lived here for five years) took three more cabbages for his famous sauerkraut, of which he'll give us another jar or two.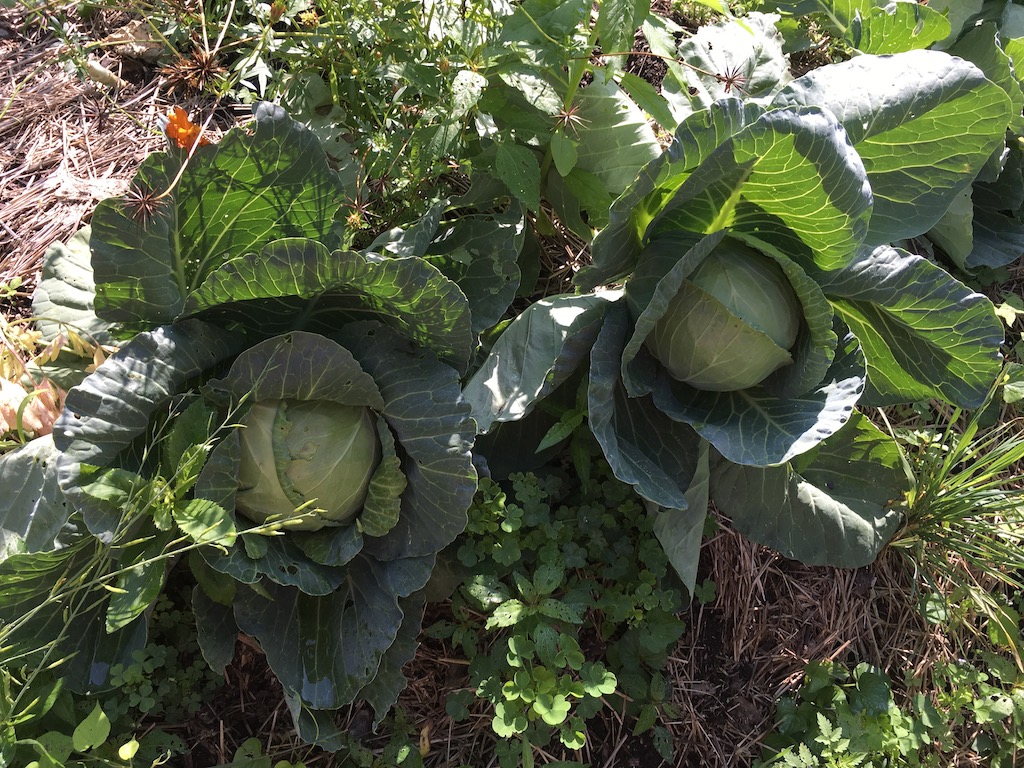 Even the purple cabbages are starting to show heads. So beautiful! Like a mandala.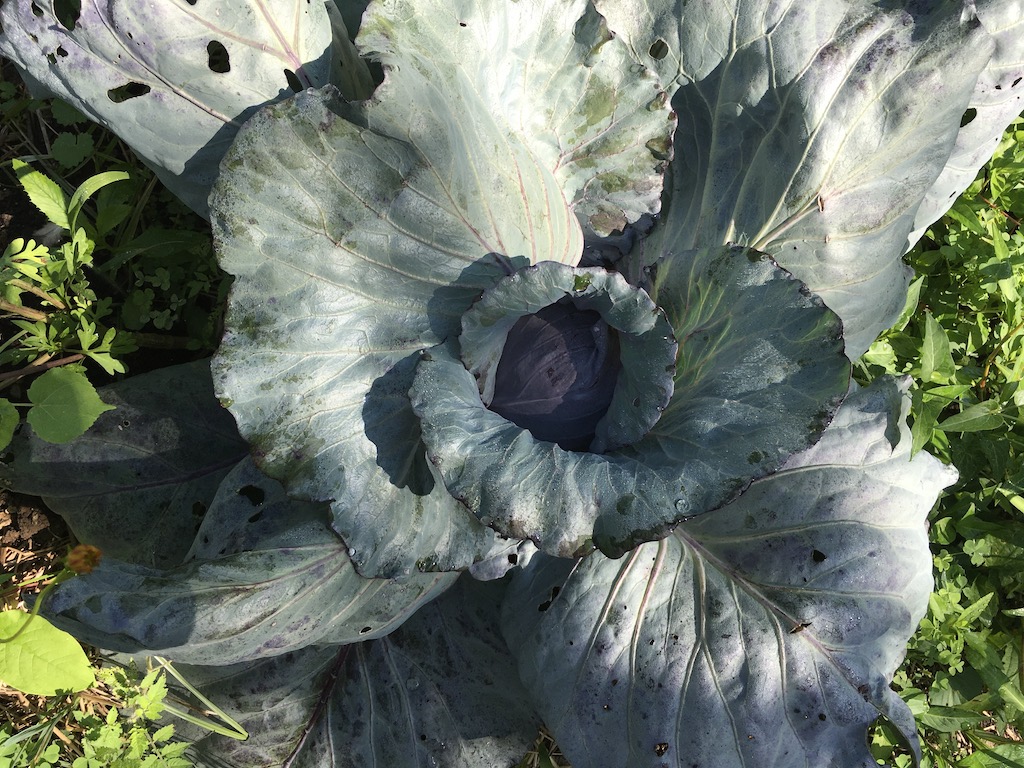 The bush bean harvest is overwhelming. Harvesting morning and evening. Sharing them with neighbors, along with kale and chard.
But the corn. The corn! Our first harvest. Daniel, puppy Shadow, and me, admiring. Notice the ear he's holding is yellow . . . I think it was the only one! More on this coming right up . . .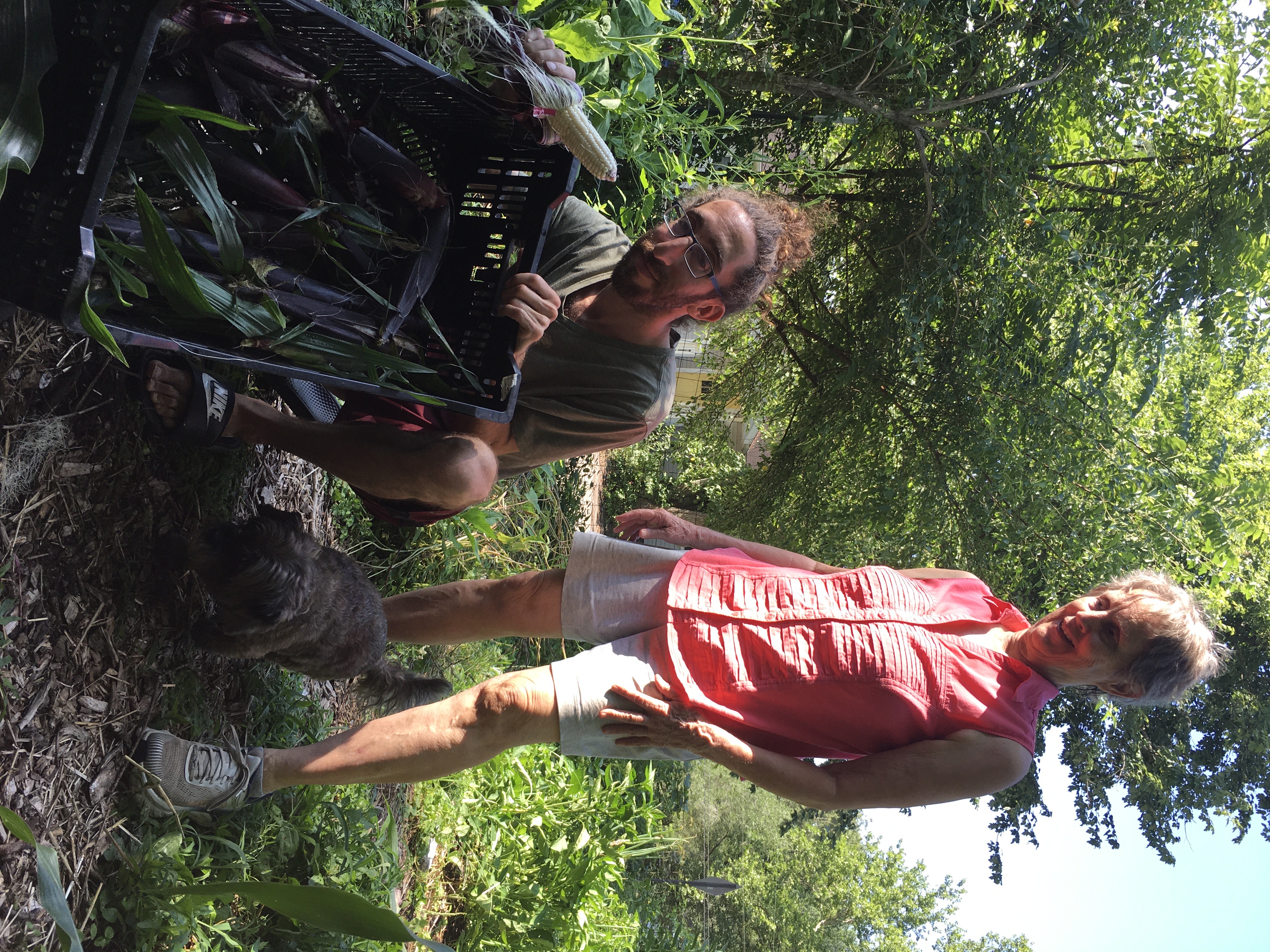 We decided to cook the corn for last Thursday's Community Dinner. Notice, the seemingly white shirt next to Dan, next to a plate with strange purple leavings . . .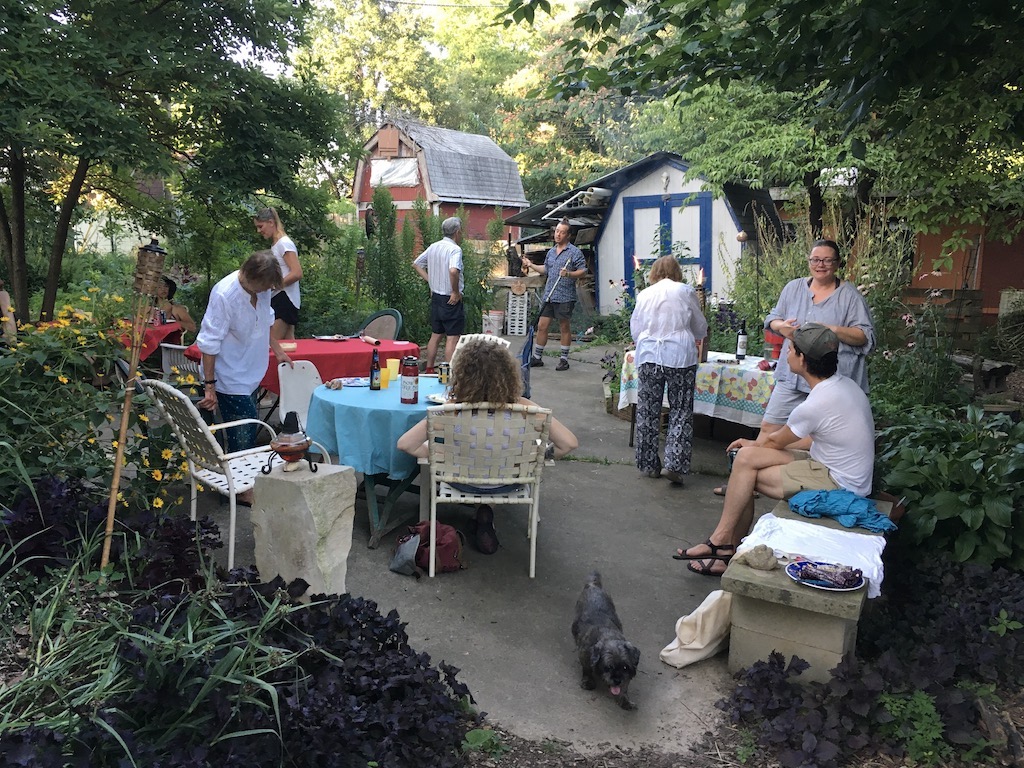 Well, it turns out that the other ears were thin, mottled purple and yellow . . . but the taste! Wonderfully sweet even before cooking.
Eating the corn, the purple stained our hands . . .
Eva, me, and "the two aunties," Eva's Mom and Aunt, Sophia and Wanda, were all sitting around a table. Wondering. Hmmm! Can the purple be used as a dye? Hmmm . . . Eva: "Ann, go get a white teeshirt that we could experiment on!" I bring out a teeshirt that I got somewhere in Asia, and have not worn since. Have no idea what the writing on it conveys.
We went to town, rolling the cobs over and over the shirt, having great, and silly fun.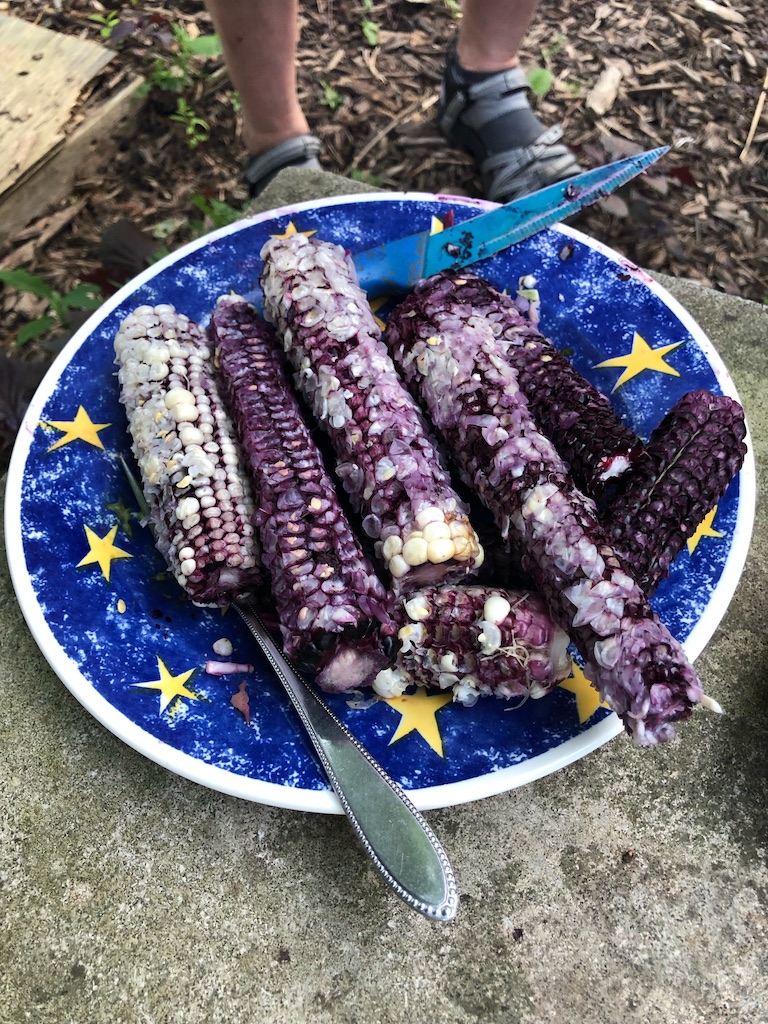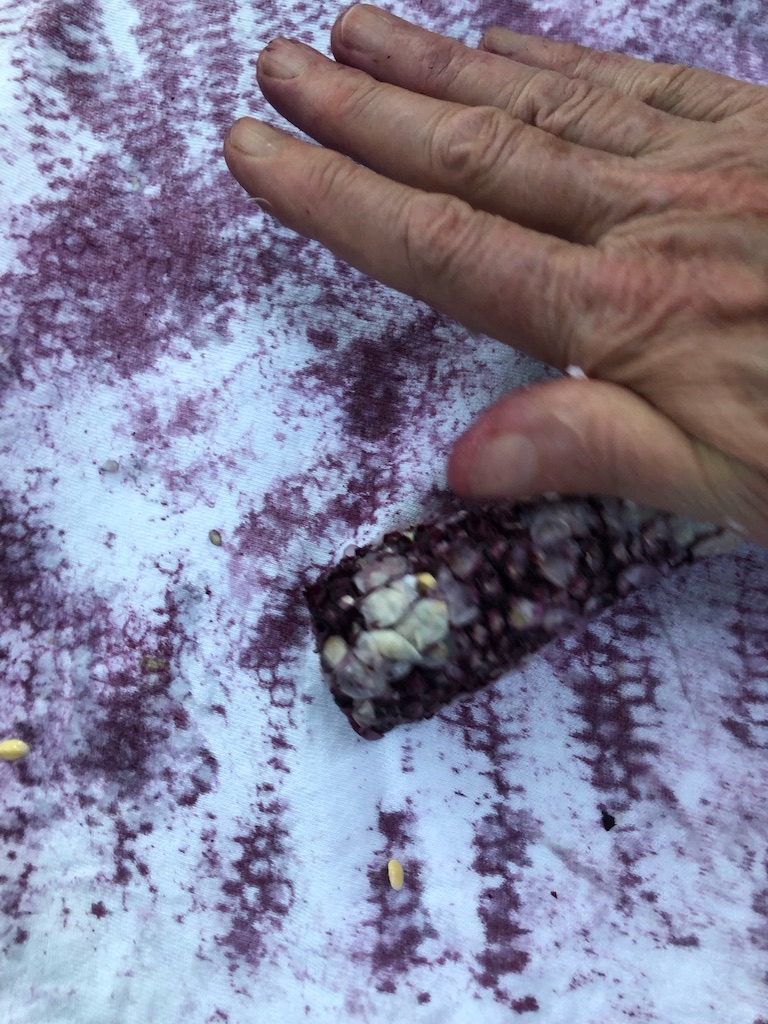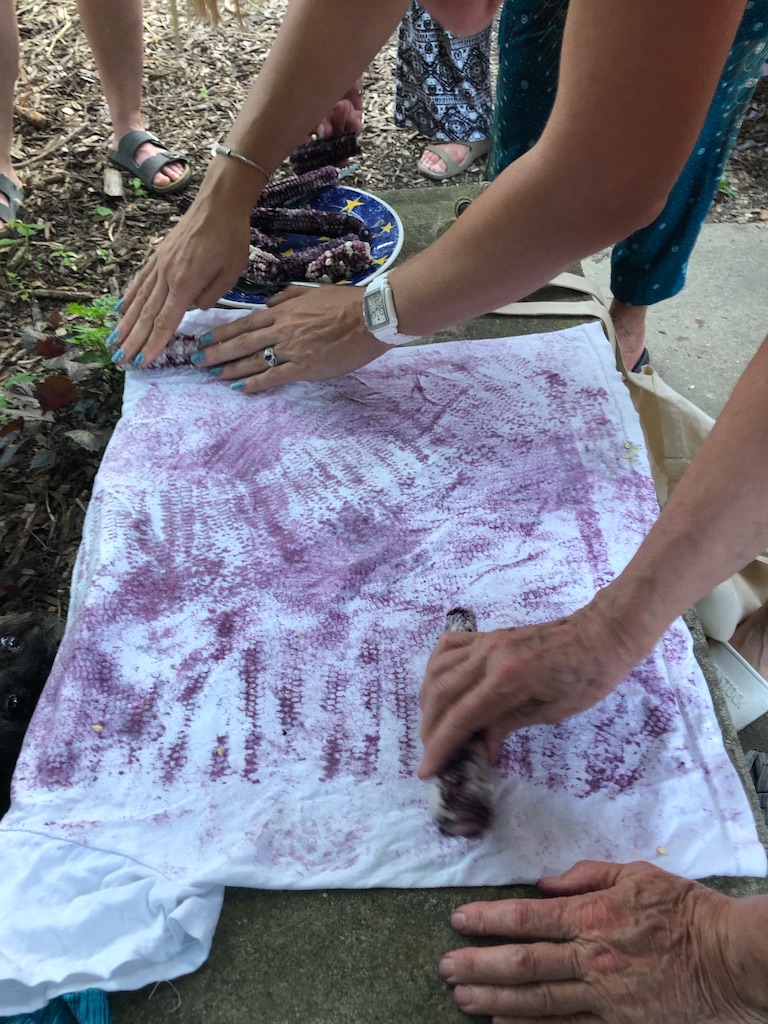 Meanwhile, two men, Jeff and Adam, were sitting, deep in conversation, at the most shaded table. Off somewhere else, Joseph was showing somebody how to wield the large wand he dances with on the patio. For many of us, all of a sudden, it seemed as if the evening had segued into some kind of party that involved working with, and talking about, materials or some kind . . .
I asked Dan if he would take a few pics of us rolling the cobs over the shirt, front and back, including the sleeves. Meanwhile, Eva and The Aunties were deep in conversation as to how to make sure the dye held. Two methods were deemed best: one, throw it in a very hot dryer for 20 minutes; two: boil it with 1/2 vinegar and 1/2 water. Still haven't decided which method to use. Here's the shirt. I sense I'm supposed to wear it at next week's Community Dinner . . .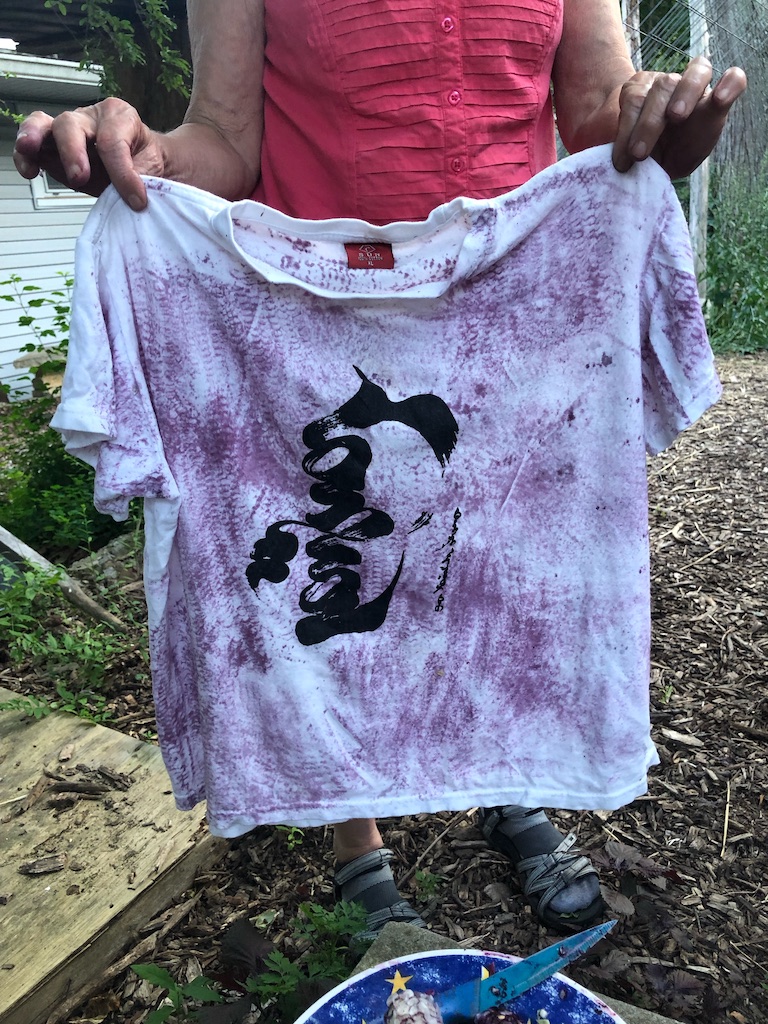 Two more items, one sad, one happy. The sad one, a burial place, covered with rocks so as not to get dug up, in one of our wild gardens: for the oldest chicken who finally got eaten, we think by a raccoon. Out of the original eight, we now have three left. Should we get more chickens? Ongoing debate.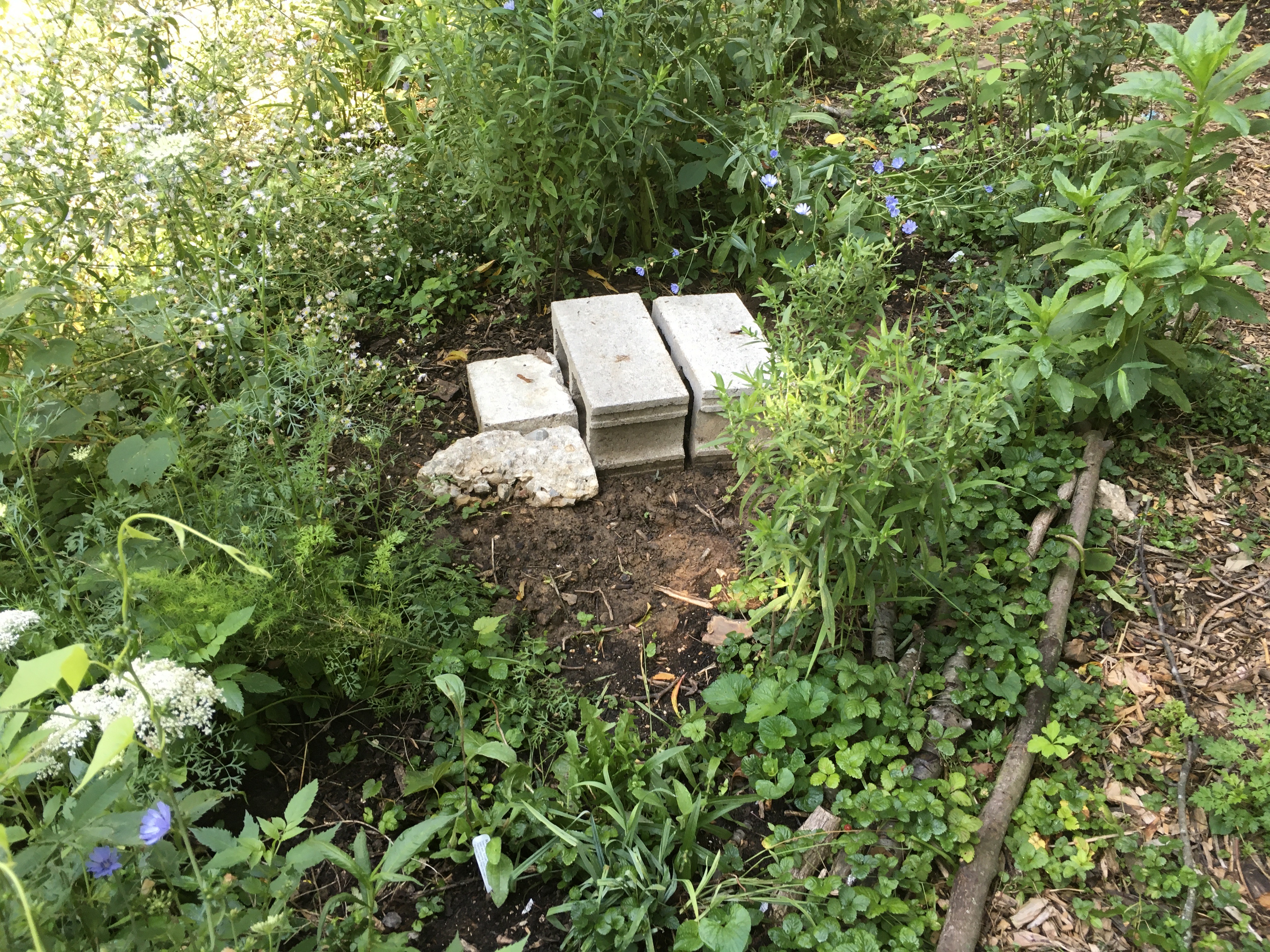 And the happy item? Our beautiful little wildflower garden, planted into the hugelkulture constructed over the dangerous, yawning hole six feet? eight feet? deep. Two years ago, that hole had opened to the remains of an old septic system . . .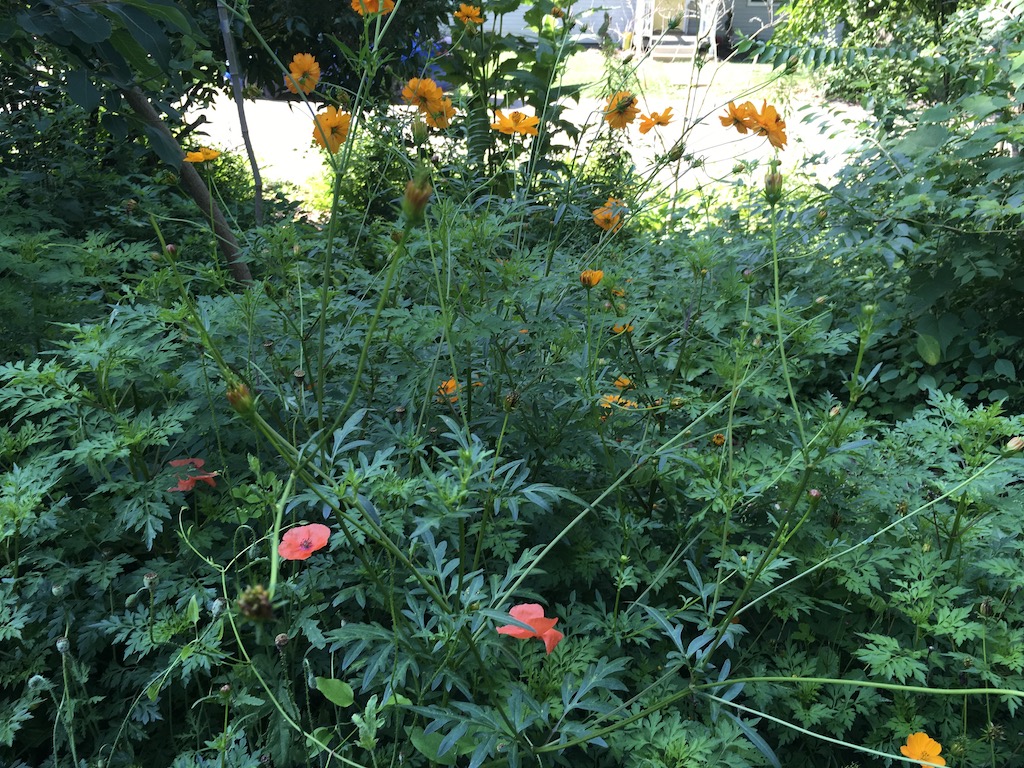 Transformation is the name of the game!